Software for the Analysis of Mass Spectrometry Data
A major effort of our laboratory has and continues to be the development of novel and practical tools for the analysis of mass spectrometry data. Check this page frequently since we are routinely making additions to our available toolset.
A program for quantitative proteomics available through a software transfer agreement from The Scripps Research Institute, La Jolla, CA. Contact Mike MacCoss with questions, feature requests, and bugs.
A windows client program used to produce compact and easily parsed text based file formats for shotgun proteomic spectra and indentifications. The format of these files have been publised in McDonald et al. Rapid Commun. Mass Spectrom. 18, 2162-2168 (2004).
A suite of software tools for creating and searching MS/MS peptide spectrum libraries. The software is particularly useful for those performing repeated proteomics profiling experiments on the same organism. After the identity of a peptide spectrum has been determined, this information can be used to speed and improve all future analyses.
A computer program for the analysis of high resolution mass spectrometry data. Hardklor will return monoisotopic m/z and charge states for single or overlapping peptide/protein isotope distributions.
Bullseye takes high resolution accurate masses from full scan spectra and matches these masses to tandem MS scan events. The MS/MS spectra can then be database searched with a narrow precursor ion mass to reduce database search space and improve peptide sequence identification.
A semi-supervised machine learning approach for improving the analysis of tandem mass spectrometry data of peptides. Percolator uses a machine learning technique call a support vector machine to dynamically discriminate between correct and decoy spectrum identifications obtained by database searching. By using our approach, we are able to identify approximately 50% more peptides from a given µLC-MS/MS dataset.
Percolator was just released as a fully open source project. The latest build and source code is available here.
MScout is a program that we have used for assessing LC-MS data quality.
A obsolete program to aide in establishing SRM transitions for targeted proteomics. Please use Skyline instead.
An implementation of the method reported by Kubinyi, Analytica Chimica Acta, 247 (1991) 107-119 for the prediction of isotope distributions.
An advanced windows program for building methods and analyzing data from SRM/MRM targeted proteomics experiments. New release of v0.5 and several videos demonstrating the capabilities and how to use the software.
An acronym for Post Analysis Data Acquisition. PAnDA uses the Hardklor feature finder to define the molecular species in an LC-MS analysis and then uses this information to automatically construct new methods to specifically target features that were missed in subsequent analyses. PAnDA is particularly powerful when running technical and biological replicates to increase the fraction of the features that can be assigned a peptide identity.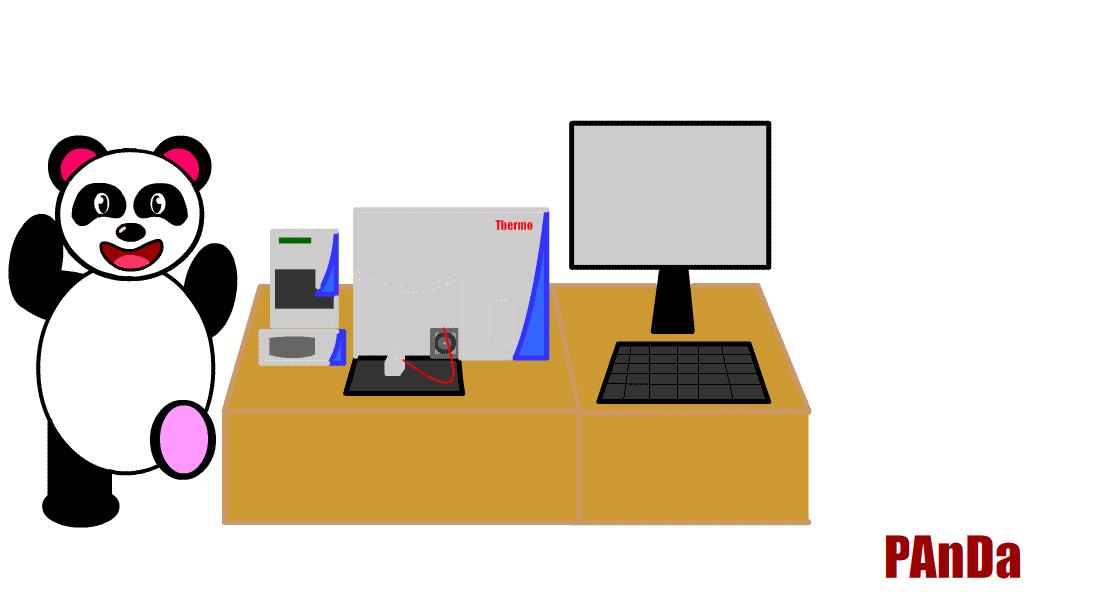 Animation developed by Shannon Joyner.
Topograph is an advanced program for the analysis of proteomics data using stable isotope labeling. This software is still in the early stages of development. Improvements are added regularly.
Our laboratory's data repository for storing, visualizing, and disseminating proteomics results. (You will be prompted for a password)
Recent News & Updates
September 30, 2010
Jarrett Egertson is Awarded an NIH/NRSA F31 Fellowship
Jarrett was awarded a predoctoral fellowship to develop and apply mass spectrometry technologies to study the molecular mechanisms of aging.
September 15, 2010
Skyline v0.7 Released
We released an update to our targeted proteomics software Skyline. This version has significantly improved handling of PTMs and neutral losses, multi-select copy and paste, support for multiple heavy isotope labels, Native Waters file import, library building from Protein Pilot, and a lot more. For more information ...
May 21, 2010
Collaboration with ThermoFisher to produce proteins
We are using a new in vitro transcription/translation product from Pierce to produce proteins from the human genome. These proteins will be used to expedite the development and optimization of targeted SRM assays. For more information see an article written at the Proteomonitor.
March 17, 2010
Skyline v0.6 Released
We released an update to our targeted proteomics software Skyline. This version has improved peak detection, collision energy optimization, peak area chards, peptide summary charts, and much much more. For more information ...
Sept 24, 2009
Skyline v0.5 Released
The latest release of our popular software tool for building Selected Reaction Monitoring (SRM) / Multiple Reaction Monitoring (MRM) methods and analyzing the resulting mass spectrometer data. More ...
May 2009
Interview by Environmental Health Perspective
Discussion on the use of targeted proteomics for the analysis of environmental toxicants on proteins. More ...
Feb 26, 2009
MacCoss honored at UW Early Career Award Recognition
Four Assistant Professors recognized for winning national awards. More ...